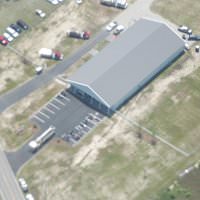 We are given the title of "FIRE EQUIPMENT SPECIALISTS" by our customers. Wally's Fire & Safety Equipment, Inc. was founded in 1980 by Wally Elliott. Initially, Wally's Fire & Safety Equipment only provided industrial fire equipment services. In 1993, after an onslaught of municipal fire departments' requests, we began building our product lines to cover all areas of the municipal fire equipment market.
Our philosophy is to stock as much equipment as our 12,000 square foot facility will allow and promptly ship to our customers at great pricing.
Our sales staff encourages demonstrations on products such as our Bullard Thermal Imaging Cameras, Draeger S.C.B.A.s, Task Force Tips Nozzles & LDH Appliances, Ramfan Ventilation Fans, Bullard Air Products... just to name a few. We have a 28 foot show trailer that we use to demonstrate most of our products. Give us a call anytime to discuss and set up a demo.
We are proud to offer a personal, knowledgeable, and courteous service to all our customers. See for yourself!
Call our TOLL FREE number today for quotes, information, or to place an order.
Thank you in advance,
Wally Elliott
President
Wallys Fire and Safety Equipment